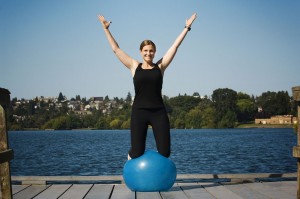 Oh so many things I want to share here. Where to begin?
My passion is helping women and moms lose weight. Why? Because I grew up overweight, self conscious and very insecure. It deeply impacted how I saw myself for much of my life. There are still days I don't enjoy looking at myself in the mirror.
After losing a ton of weight, running thousands of miles, competing in countless races (5Ks, half marathons, a marathon, triathlons) and even taking home a few medals, I have grown into my own skin. It has been quite a journey.
Body image is such crazy thing. I think it's impact on the rest of our lives is highly underestimated. If you come from a place of insecurity, you don't think you deserve the best in life. You settle. You let others have all the glory. You don't love yourself as you should.
This is not ok. I want to change this. Everyday I work to change this in myself.
Even in the face of success and triumph we (women and moms) don't give ourselves enough credit. This must change. This must change for the sake of our children, especially our daughters, who deserve to have the best body image possible.
Since 2003, I have helped countless women and moms change this within themselves.
It is now my mission to empower moms to love themselves, to take care of themselves and to be proud of themselves. I hope you join me on my mission to bring weight loss and transformation to moms across the globe. I want every mom to feel beautiful and sexy, even in the face of baby barf and leaky breasts.
The rest of the nitty gritty:
I have been a fitness professional since 2003. Offline, I own and operate Sync Fitness, a personal training business and Boot Camp business in Seattle, Washington. I also run weight loss programs throughout the year (6 Week Total Body Transformation, 4 Week Rapid Fat Loss). Online, I own and operate Fit Healthy Moms, a website that gives moms a ton of tools to lose weight, be healthy and find their sexy selves. Through Fit Healthy Moms I also run my 6 Week Pregnancy Weight Loss Program. I work like crazy. And I LOVE it!
When I'm not making others sweat, you can find me sweating like crazy as I run, lift and box through my day.
I am married to a fabulous man who couldn't be less like me. He loves computers, Twizzlers, and 60 Minutes. He hates working out. I can't imagine my life without him.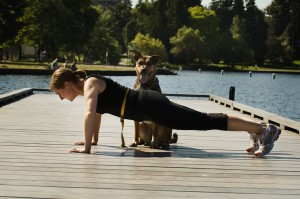 We have the best dog in the world (you may think you have the best dog in the world, but you're wrong!)
We are about to begin the journey of parenthood. I'm terrified. Probably because I'm a control freak and, come to find out, there's not much you can actually control when it comes to getting pregnant, having a baby or raising a little person. Yes, the whole thing makes me want to vomit. But, I'm told it's all worth it, so I'll give it a try….
In the meantime, I will work to serve you and all the rest of my online and offline clients whole heartedly, because I'm an obsessive over achiever (aka nerd!)
---