I think I have a favorite new workout. On Monday, I opened my new Boot Camp location in Seattle and I knew I had to have a special first day workout. With Some inspiration from another Boot Camp owner, Monty, who runs his camp in North Carolina, I came up with something magnificent. And by magnificent, I mean it will leave you huffin & puffin and possibly sore for days. That's the meaning of magnificent, right?
TRUE MAGNIFICENCE: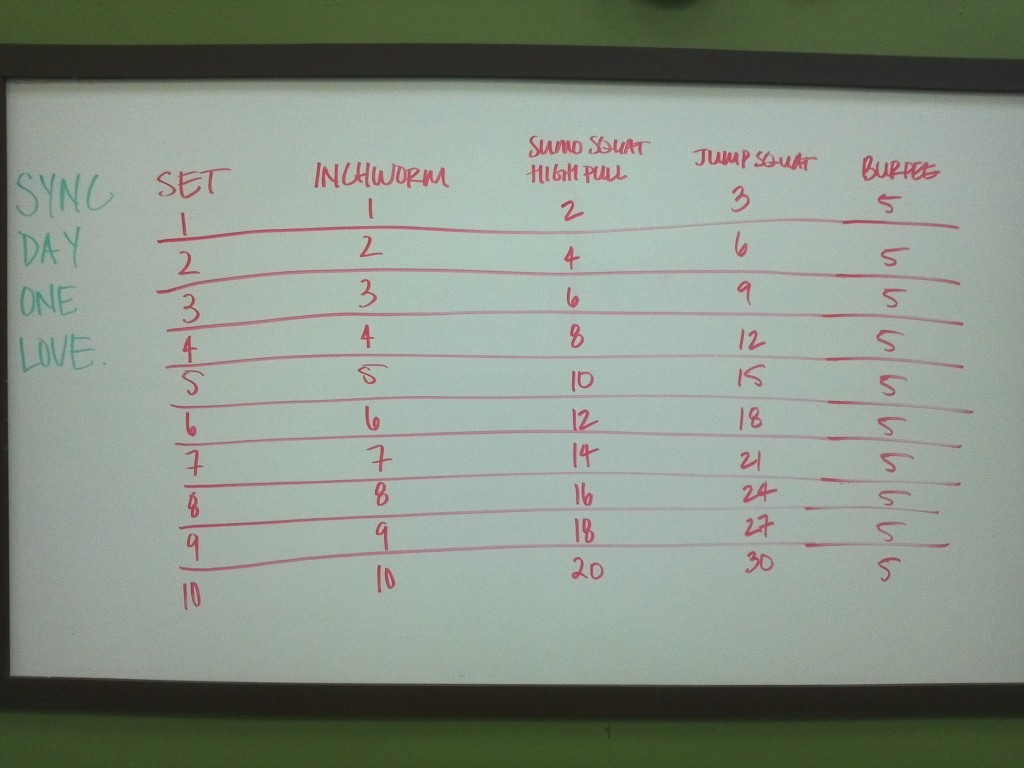 What I really love about this workout is the format. You could plug a lot of different exercises into this format and the workout would rock. So feel free to edit as needed for you. But – wait – DO NOT take out the burpees. I know that's what you were thinking….. Those are non-negotiable!
The moves we used included:
Inchworms
Sumo Squat (aka Deadlift) High Pulls (we used dumbbells – hold them like this, but don't round your upper back)
Jump Squats (drop into a squat with feet hip width apart, touch the floor between your feet. Reach up and jump up. Land back in your low squat with hips/butt back and weight in your heels.)
Burpees (you know them – you love them.)
Go through the entire workout, Sets 1-10 with minimal rest. Set a timer for 20 minutes and see how far you get. NOTE WHERE YOU FINISHED. If you do not finish all sets, return to this workout in a week or so and try to finish it in under 20 minutes. I had 2 Boot Campers out of 27 complete it in under 20 minutes on Monday.
Optional Modification:
To make this workout less leg intensive you could trade the jump squats for a Bent Over Dumbbell Row.
This workout counts as a strength workout AND a cardio workout. You'll see what I mean once you do it!
How far can you get in 20 minutes? Post your results below.
Comments
comments
Powered by Facebook Comments
---
---