My old roomie, Natalie, sent me a great recipe the other day, a little something she stumbled upon while trying to find a healthy snack for herself and her son, Henry.
Before I share the recipe, I have to share a little about Natalie. Just to embarrass her. We were roommates before we each got married. In fact, my husband (then my bf) was the one who told her husband (then Natalie's co-worker) to "make a move" at a party at our house one night. He did. Way to go Kevin! Natalie is definitely a keeper.
I tried to find photos from that night. This was back when I was much more wild. I stayed up past midnight and, on occasion, you could find me doing jello shots. There is a photo of Natalie and I from this particular night doing jello shots together. Sadly, I could not find it for this post. Shoooooot!! I was really hoping to torture Natalie with it….
Needless to say, Natalie and I are both far less wild now. We don't stay up until midnight and we don't do jello shots – wait maybe Natalie still does?? We are now married mamas (Natalie with a 2 year old, little redheaded Henry, and me with Little Bean Dean in utero.) But we are still pretty fabulous, I'd say.
In our single days Natalie and I got up at 5:30 in the morning to go to lap swim together. We raced together in many triathlons and a few half marathons. When we weren't logging miles in a pool, on a bike, or pounding the pavement, we were on the couch eating Taco Del Mar while our third roomie, Natalie's brother, ate Chef Boyardee Ravioli and M&Ms. Yes, together. I know, I don't get it either.
Since Natalie had her little guy, Henry, she's joined my crew of Fit Healthy Moms. You can workout with her in the SuperMoms 20/10 Interval Workout. She's a rock star!
The other day she texted me this great (super easy!) recipe and right away I knew I had to share it with you. So, here ya go . . .
Roasted Garbanzos:
can of garbanzo beans in a bowl
olive oil
crushed garlic
salt
pepper
rice vinegar (optional, if you like tangy)
Roast on cookie sheet at 400 for 15-30 minutes, depending on how crunchy you want them.
This is a super snack or side dish for the whole family. Garbanzos (aka chickpeas) are high protein and fiber, making them filling. They are also a great source of iron. And, most importantly, they are yummy, especially when seasoned wth this kind of goodness. This snack will satisfy your salt cravings just like chips, but will fill you up (unlike chips!)
Here's little Henry lovin' his snack: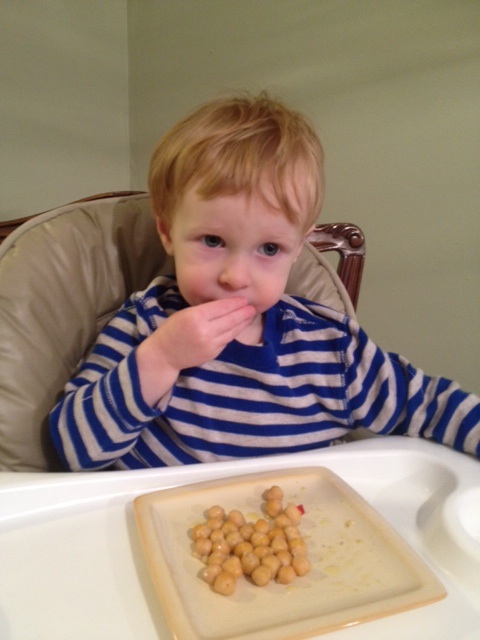 What is your favorite quick & easy, kid friendly recipe? Post below to share with other Fit Healthy Moms!
Comments
comments
Powered by Facebook Comments
---
---