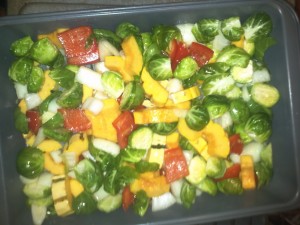 Ok, I'll be honest – I have not been keeping up on my veggies the last month. They are about the last thing I can gag down. I've been feeling horrible about this, since pre-prego I could scarf down 5-10 servings a day, no problem. I told my Boot Campers the other day I'm on a public school lunch program – where tater tots and ketchup count as veggies – cause that's about all I can get down.
However, I did have one evening last week where I thought I may be able to get in a few healthy bites, so I went for it. This would also mark the first time in a month I prepared dinner – another thing my stomach just has not been able to tolerate – food prep of any kind.
I grabbed all the veggies I had stock piled in the event I actually felt I could swallow them: Brussels sprouts, Delicata squash, red pepper and a sweet onion. You could do this with any selection of veggies, really. And for that matter, you can season them any way you please. The options are endless. With a big selection of veggies, you're bound to get in something that everyone in the fam will eat. Here's what I did:
15-20 Brussels Sprouts, stemmed and halved
1 Delicata Squash, seeded and sliced
1 Red Pepper, chopped into 1×1 chunks
1 Sweet Onion, chopped into 1×1 chunks
2 cloves garlic, crushed
2 Tablespoons olive oil
Sea Salt to taste
Crushed Black Pepper to taste
Optional: Crushed Rep Pepper Flakes to taste
In a freezer size (gallon) Zip Loc bag combine all ingredients. Zip bag and shake until all veggies are coated with oil, garlic, salt & pepper.
Pour into a large baking pan or cookie sheet. Bake at 350 for 45-60 minutes, depending on how soft you like your veggies. Just be sure squash is easy to poke through with a fork.
Serve with a side of Sara's Savory Chicken or baked/grilled Wild Salmon.
The reason this is a "Fat Burning Dinner" is because this is the appropriate ratio of carbs to protein to fat for an evening meal. Many of you know this from the Hormone Syncing Diet in SuperMom Workouts. In the evening, your plate should be primarily veggies and protein. Any carbs, should be in the form of vegetables. In this meal, your carbs come from the squash. This gives you a little of that warm, filling feeling without spiking blood sugar in the evening or allowing extra sugar to sit in your gut as you prepare for bed. This is exactly how your dinner should be for moms focusing on weight loss or losing belly fat.
Try out your this recipe OR your own combo of roasted veggies and leave a comment below, letting us know how it goes!
Comments
comments
Powered by Facebook Comments
---
---