I was advised to test drive a gluten and dairy free diet after little Vinnie got a horrible case of cradle cap accompanied by a full body rash – poor baby! Given his sensitive skin, he's bound to be a redhead. . .
I've been gluten free/dairy free before. It's very possible. It's just not easy – at least not when you have a house full of lasagna and chocolate chip cookies from baby well wishers. So, I'm off the cookies – begrudgingly.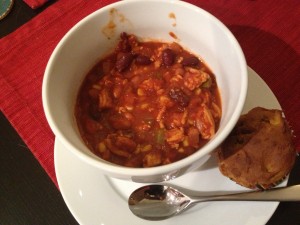 I'm compiling a bunch of my recent meals to share with you down the road. But, here's a sneak peek – what I made for dinner last night.
My Mama's Chili:

1 lb Lean Ground Turkey (hormone, anti-biotic free, if possible), cooked
1-2 tablespoons extra virgin olive oil
1 medium Sweet Onion, chopped
1 medium Organic Green Pepper, chopped
1 32 ounce can Stewed Tomatoes, blended
1 15 ounce can Tomato Sauce
2+ teaspoons Chili Powder
1/8+ teaspoons Cayenne Pepper
1/8+ teaspoons Paprika
1 15 ounce can Kidney Beans, drained
1 15 ounce can Black Beans, drained
1 15 ounce can Chili (or Pinto) beans, undrained if chili beans are used – you'll want the flavored juice
Optional: 1 cup Organic Fresh or Frozen Sweet Corn
In Dutch oven saute onion and green pepper until tender. Stir in all ingredients, EXCEPT beans. Heat to a boil. Reduce heat, cover and simmer for 2 hours, stirring occasionally. After 2 hours, stir in beans and heat through.
Pumpkin/Peanut Butter Muffins:
I adapted this recipe from this recipe for Gluten Free Vegan PB Butternut Squash Muffins.
1 1/2 cups Bob's Red Mill All GF All Purpose Baking Flour
1 cup GF Oats
3/4 teaspoon Xanthum Gum
1/2 cup Organic Evaporated Cane Juice Sugar
1 tablespoon Baking Powder
1/2 teaspoon Baking Soda
1/4 teaspoon sea salt
1 15 ounce can Organic Pumpkin
1/2 cup Organic Peanut Butter
1/2 cup Water
Preheat oven to 375. Mix all dry ingredients in a large mixing bowl (flour, oats, xanthum gum, sugar, baking powder, baking soda, salt.) Add wet ingredients (pumpkin, peanut butter and water.) Mix well. Pour mixture into greased muffin tin or cupcake wrappers in muffin tin. Mix is just enough to make 12 muffins. Fill each muffin hole completely. Bake for 25 minutes. Makes 6 servings.
* The muffins are yummy and somewhat sweet. Like most things in life, I'm certain they would benefit from the addition of dark chocolate chips. I'll add these next time I make them! It would certainly make them more dessert-like, which I'm fine with.
It's really not hard to maintain a gluten free/dairy free diet. It just takes some getting used to. That is the hard part. Stocking up on foods you *can* eat is essential – or you'll be like me – either starving yourself or living on beans and avocado for days on end. I've done both while trying to maintain a gluten free/dairy free diet and neither is much fun. But if I stock up on good foods, it's not hard at all.
Comments
comments
Powered by Facebook Comments
---
---