We spent this weekend with my husband's family at Suttle Lake in Oregon. It was a great trip, full of fun and laughs and a fair amount of healthy habits. As we made our way through the weekend I started noting some of the healthy habits we were participating in:
*Long walks/hikes after breakfast
*Big family meals with a base of tons of fresh produce (salads, fruits, grilled veggies)
*Meals eaten family style and together, as a large group
*Family photo time – my mother-in-law passed around a bunch of old family photos and told us stories
*Family camp fire
*Food prep & clean up – quality time visiting with my sis-in-laws
*Fishing time
*Game time
When you think about healthy family habits, you probably think about trying to get your kids to eat vegetables. But do you also consider the health benefits of quality time spent together as a family – like some of the things listed above? Do you prep meals and clean up together? Do you set aside time for family activities together on a regular basis? Do you eat together, as a family, most nights?
How do you communicate as a family? Does this relate to your overall health? Families that spend more time in front of the TV (non-communicative, for the most part) not only lead a more sedentary life, but they are missing an opportunity to get to know each other, build a foundation of open communication and prioritize healthy habits – whether it's physical or mental health habits.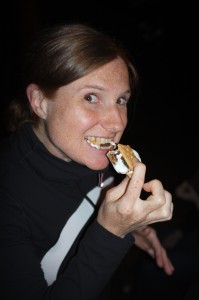 All this is not to say we didn't have moments of indulgence this weekend. There was amazing french toast, s'mores, afternoon naps, cocktails…. But the healthy habits balanced and, in some cases, outweighed the indulgences. The time spent together enjoying each other's company was so refreshing and renewing – that impacts your HEALTH. It made me really think about how my husband and I will prioritize family time come October when we become a family of 3.
Healthy habits are not just about eating and exercise. Sure that is some of it. But there is so much more to being a family unit based in healthy choices and committed to a healthy lifestyle.
What are some of your family traditions that contribute to your family's overall health?
Comments
comments
Powered by Facebook Comments
---
---