Over weekend the hubs and I went out for dim sum. It has become a pregnancy favorites. I'm not sure how that happened. I think it's my constant burning desire for salt. The best part of the meal was the fortune that came in my cookie at the end: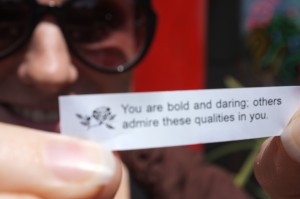 This made me so happy, because I do really try to be bold and daring. And it's not easy for me. I am a total comfort zone person – about EVERYTHING. The way I eat, the way I exercise, my choices about my social life, my professional decisions, how I handle conflict – EVERYTHING. I like to know what I'm in for and the unknown, quite frankly, freaks me out, almost 100% of the time.
So I have to *really* push myself out of my comfort zone everyday.
The mere fact I was eating dim sum is actually a perfect example. In fact, old friends who go out to eat with me are surprised by the variety in my food choices these days, given that I used to eat the same breakfast, lunch and dinner everyday, for years on end. But now I'll try almost anything. I recently tried bone marrow for the first time. Gross. But glad I tried it. And I tried beef tongue ravioli at our friend's restaurant. I thought it sounded disgusting, especially given that I don't eat red meat, because it never appeals to me. You know what, it turns out beef tongue ravioli is pretty amaze balls. Try it sometime.
In fact most of my current favorite foods are a far cry from bean burritos (the food I've probably eaten more than any other food in the world – often twice in one day in my twenties.) Sushi and dim sum are current pregnant faves.
Are you bold and daring in your life? With your food? Do you try things out of your comfort zone? Have you ever substituted spaghetti squash for regular spaghetti – only to find out it rocks?! Have you ever put your burrito fillings over a salad instead of in a tortilla? Have you ever added kale to your favorite soup? Have you ever substituted quinoa for rice? Have you ever added spinach to a smoothie?Have you ever made cauliflower rice? These are all things I would have refused to try a few years ago and now they are all staples in my diet.
Being bold and daring with food is one of the biggest steps to changing your diet for good. You have to try new things and find new things you love. Dieting and losing weight is not about taking away everything you love, it's about finding new things to love. New things that fill you up and fuel you well. When you find those gems you will not notice the old foods (bad habits, in many cases) that you've left behind.
I've been tentative to try new recipes while pregnant. First off, some things just taste different and I don't want to waste time making something I won't like. Secondly, I don't have the energy or patience to collect a ton of new ingredients and follow a bunch of prep steps.
But my newest mission of being BOLD and DARING is to use my crockpot more. I know, it doesn't sound that bold . . . or daring. . . . But hey, for me anything new is bold and daring. So on Sunday I committed to trying a new crockpot recipe. And it turned out great. The best part was the simplicity of it – which is the beauty of the crockpot.
The original recipe for this Chicken and Corn Chili came from AllRecipes.com. I adapted it quite a bit, based on my current tastes (and propensity toward heartburn…) Here was my final version of deliciousness.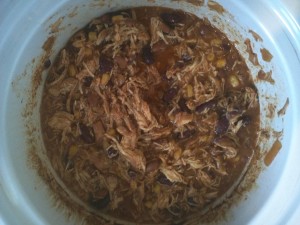 4 organic boneless, skinless chicken breasts
1 medium organic yellow onion, diced
1 cup salsa
1 cup organic, low sodium chicken broth
1 can "chili" seasoned pinto beans
1 can organic kidney beans
1 cup organic frozen corn (fresh would work fine too, avoid canned)
2 cloves crushed garlic
1+ teaspoon garlic powder
1+ teaspoon chili powder (I used closer to 2)
1+ teaspoon cumin
salt & fresh ground pepper to taste
Put it all in the crockpot (chicken can be raw!) and cook on low for 8 hours. After cooking, chicken will shred easily. Shred chicken and stir chili. Serve as chili OR put in sprouted grain tortillas as tacos OR serve over a bed of lettuce as a taco salad. Optional: add cheddar/sour cream/avocado as topping.
Next time I will add more veggies and a third can of beans (black beans). This makes a TON. We have eaten it three times this week (in each of the formats mentioned above) and there is still quite a bit left. I recommend freezing half of it and saving it for later.
Turns out this meal qualifies as an FHM Fat Burning Dinner too. Most of you know my criteria for fat burning dinners at this point:
1. Must have substantial protein
2. Must be grain free
3. Must be filling and satisfying to eliminate late night sugar cravings
4. Must be tasty
5. Must be easy
Like I said earlier, a simple crockpot recipe may not seem bold and daring to you, but it is for me, given my life right now. And a step into something new and that is always a good thing. I'm definitely going to do this again soon – with my crockpot! Maybe this weekend. If you have an awesome crockpot recipe, post it below, I would love to "borrow" it from you!
Ok, your turn, how will you be bold and daring in the kitchen this week?
Comments
comments
Powered by Facebook Comments
---
---