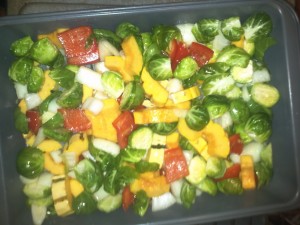 I got so much feedback from folks about my last post where I talked about reducing grains (even though my haters think this is impossible and ridiculous.) What you told me is that for those of you who have taken strides to reduce and/or eliminate grains, you have lost weight, lost inches off your belly (many grains cause bloat!) and you feel awesome. Additionally, many of you mentioned that this has been a fast & easy way to really see noticeable change in your body after struggling to see changes for years, in some cases.
If you are reducing grains, the best meal to cut them from is dinner. Using grains for fuel for the day at breakfast and lunch is ok, provided the grain is not processed (sprouted breads, quinoa – which is actually a seed, organic brown rice, millet, amaranth, steel cut oats.) It is important to note that you CAN get plenty of carbs at breakfast and lunch with veggies and fruit. Grains are not necessary at all. At dinner, though, you do not need the same kind of carb "fuel". So dinner can and should be low carb so you can rest easy without a belly full of sugar (grains turn to sugar as the are digested, you don't need this at night.)
Filling up on these kinds of dinners after an active day will help you feed muscle (and thereby burn fat) while you're sleeping. This is way better than letting sugar sit in your belly while you sleep! In fact, some of these recipes are right out of our SuperMoms program where moms use our Hormone Syncing Diet to burn fat round the clock and lose up to 20 pounds in 5 weeks.
Here are some delish, grain free dinner recipes we have regularly:
Maple Pecan Chicken/Beets & Sweets/Greens
Super Spinach Salad

Butternut Squash & Spinach Salad

Coconut Curry Stir Fry

Sides:
Green Bean Fries
Comments
comments
Powered by Facebook Comments
---
---