How often do you compose your meal based on the time of day you'll be consuming it? Probably not very often. You could be missing out on some really important opportunities to maximize (or maintain) your weight loss. WHEN you eat certain foods is as important as WHAT foods you eat. There is a lot to be said about this, but for now I just want to focus on dinner.
For the purpose of weight loss or weight loss maintenance, dinner should be a meal composed mainly of veggies and protein and maybe some fat. Dinner should be your lowest carb meal of the day. Why? Because you are at the end of your day. You don't need sugars (even slow burning, low glycemic sugars) at this hour. Your carbs from fruits, veggies and minimally from sprouted grains should come early in the day before your workout (as a source of fuel) or after your workout when your metabolism is at it's peak for the day and you can burn those sugars right off. Carbs should hold a teeny, tiny plate on your dinner plate, if at all, so you are never going to bed with unused carbs in your system – that is one of the fastest ways to pile on belly fat.
Here are two dinners options that I have regularly:
Little Bit O' Carbs Dinner: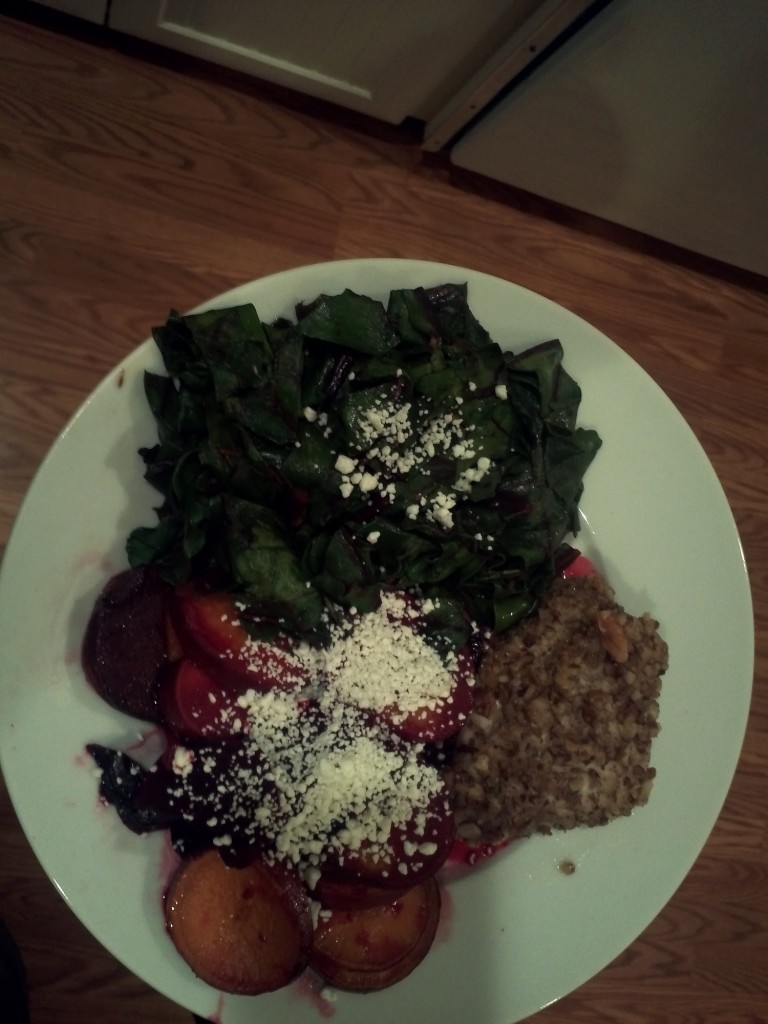 Maple Pecan Chicken/Beets&Sweets/Greens

Chicken:
1/2 cup organic maple syrup
3/4 cup pecans
2 organic boneless, skinless chicken breasts
Pour syrup in a bowl. Chop pecans and put in a separate bowl. Cut 2 chicken breasts in half. Dip 1/2 breast in the syrup to coat lightly, then roll in chopped pecans. Let all extra syrup drip off meat before rolling in pecans. Repeat with all breast pieces. Bake for 30-40 minutes at 350 (or until cooked through).
Beets & Sweets
I spinkled a little goat cheese over them too. I can't live without goat cheese….
Greens:
Saute any greens (spinach, kale, swiss chard, beet greens – in photo above) in coconut cooking spray. Add a dash of sea salt and red pepper flakes or Trader Joe's South African Smoke to season. Optional: add crushed garlic.
The beets & sweets will provide you with plenty – enough for 4 or more servings. If you're eating this late in the evening, grab more of the beets and less of the yams out of the mixture. When having as leftovers as lunch (yum!!) grab more of the yams. NOTE: like all of my dinners, this is served on a salad plate. I can fill it to the brim while keeping portions very reasonable. If I put this on my full size dinner plate, I would have likely served myself twice as much food.
Low-No Carb Dinner: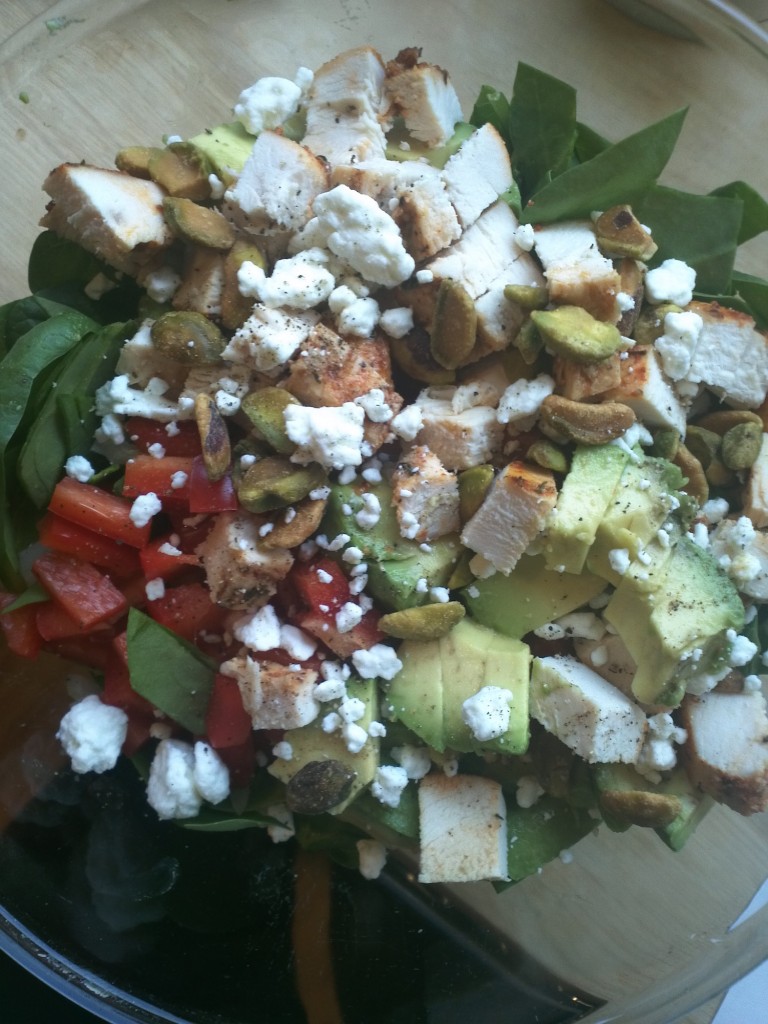 Super Spinach Salad
1 small organic boneless, skinless chicken breast OR wild salmon, baked or grilled
4 cups organic baby spinach
1/4 cup green onions
1/2 red pepper
1/4 avocado
1/3 cucumber
optional: tomatoes
1 tablespoons chopped nuts (I used pistachios in photo)
2 tablespoons crumbled goat cheese
1 teaspoon organic extra virgin olive oil
2 teaspoons balsamic vinegar
fresh ground pepper to taste
Prepare meat and set aside. Add all salad ingredients to a bowl and toss. Add meat to the side or cut up on top. NOTE: I serve this salad in a big bowl – almost the size of a mixing bowl. Because veggies are so low calorie I have no concern over portions here – if I'm really hungry I can toss in another half a pepper or cuke for about 15-2 calories. So don't be afraid to LOAD the bowl with your fave veggies (not the avocado, cheese and nuts, though!)
These two meals are excellent for weight loss and weight loss maintenance. They are also example examples of volume eating. These are foods you can consume a lot of for very few calories and a ton of nutrient value – helping you feel very full and satisfied. DIG IN!
Be sure to let us know if you try these suggestions. We'd love to know what you think. If you like these kinds of post, be sure to click that little Like button to let me know so I can send more of this information your way!
Comments
comments
Powered by Facebook Comments
---
---