Most moms have diastasis recti after giving birth (also known as abdominal separation or rectus diastasis). This is very common, because as your belly grows in the later stages of your pregnancy, your abdominal muscles get stretched beyond their limits. Some moms can see this happening, as they develop a darkened line down the center of their belly, called the linea alba. However, many moms have a diastasis WITHOUT having a visible linea alba.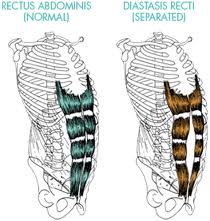 The only way to know if you have diastasis recti is to test for it. The video above shows you exactly how to do that. Step by step.
Testing for Diastasis Recti
Why is it important to know if you have diastasis recti? If you have a diastasis, you can easily make it WORSE with many common abdominal exercises. This will lead to greater "pooching" of your belly that can last forever – yes, literally forever. WARNING: crunches are the worst thing to do for your DR. This post tells you why.
The main risks of not properly taking care of your Diastasis is that you will have a pooch for years, yes, years, to come. Additionally, with that pooch comes a weak core and risk of low back injury at anytime. This can be a recipe for disaster. When you have a newborn, you are bending over CONSTANTLY. So having a strong, tight core is essential to the health of your low back. Low back injuries are very common after giving birth, given the extremely weakened condition of the core. I've known moms to be bedridden with back injuries, unable to care for their newborns. Not a pretty picture.
Fixing Abdominal Separation
I don't mean to scare you . . . With proper training, you can effectively recondition your abs and get rid of your diastasis in a pretty short amount of time. In fact, you can start doing these exercises (kegels, elevators, zippers) immediately after giving birth, to minimize and eliminate your diastasis recti. You want to incorporate these exercises into your daily routine immediately upon your return home from the hospital. You can do these postpartum abdominal exercises while you're nursing or cuddling. So, you don't even have to set aside "workout time" for them.
Exercises for Rectus Diastasis
Once you've done your kegels, elevators, and zippers regularly for a week or two, you can "graduate" to these exercises. They are also safe to do right after birth if you've had a VAGINAL delivery. If you've had a C-Section, wait until your doc gives you permission to do these and just stick with the (very exciting) kegels, elevators and zippers.
Once your diastasis is less than 2 fingers wide, you can move on to more advanced abdominal exercises, as long as you keep in mind you must always pull in and never pooch out your belly.
Use the testing method in the video above to test yourself every week or so until your diastasis is 2 fingers wide or less. Always follow the method in the video. Do not try to feel your DR width while sitting or standing. You will not be able to accurately measure it.
Strong Abs for Moms
The benefits of healing your diastasis recti as soon as possible are huge:
1. Lower risk of post partum back injury
2. Flatten your belly much faster
3. Lose your After Baby Belly much faster
4. Appear to have lost much of your baby weight in a short amount of time (even if the scale isn't budging much)
5. As your core gets stronger, you can start to incorporate many other exercises that will hep you burn belly fat and lose pregnancy weight much faster
6. You can return to regular core exercises and full body exercises much sooner (rather than being limited to walking, etc)
Healing your Diastasis Recti and reconditioning your core is truly the FIRST step in losing baby weight and getting your body back. The great news is that we have told you ways to work on this right away, so you don't have to carry that baby weight around for years.
If you have been carrying baby weight around for years, don't fret, you certainly aren't alone. If you haven't yet reconditioned your core post baby, start now. It will only enhance your body and your life. Having a strong core is the first step in having a strong body no matter when you get it – 8 weeks or 18 years postpartum.
Many of our Fit Healthy Moms use our 6 Week Pregnancy Weight Loss Program to heal their diastasis and lose their baby belly. This program come with full workouts and exercises that are safe and effective to perform with or without diastasis recti. This program gives you a bunch more exercises for healing your diastasis and losing your After Baby Belly. Our moms typically find their diastasis recti is all healed by at the end of the program, if not before.
Comments
comments
Powered by Facebook Comments
---
---